Android is an open-source mobile application platform with strong compatibility and affordable devices that are perfect for people all across the globe.
Android has more than 80% of the mobile market's share.
There are 20 billion Android users
There are 24,000 distinct android devices.
1 million apps are present online for android.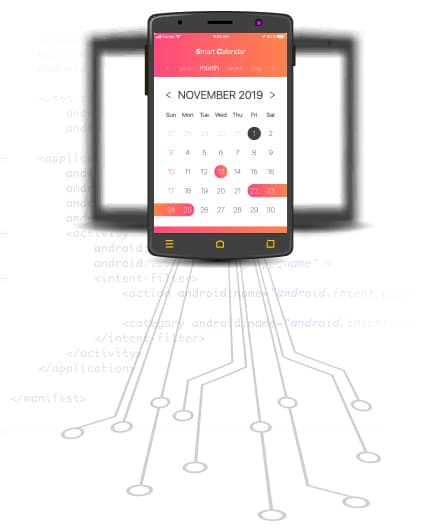 DESIGN
We craft beautiful user interfaces that are pixel-perfect in appearance and flawless in user experience. Our intuitive apps are user-friendly and include accessibility.
DEVELOPMENT
We develop native android applications that have robust architectures, lowest CPU related overheads, high speed, advanced features and unmatched performance.
TESTING
Our quality assurance engineers do rigorous unit testing of all android apps which is why our published apps on Play Store have good ratings and positive feedbacks.
DELIVERY
The extensive experience in the field of android app development has made deployment and management an easy task for our expert developers.
The Dynamologic Advantages
INTEGRATION
Our agile processes and overall work environment allows us to immediately connect enterprise solutions with our in-built application connectors for Android.
API DEVELOPMENT
We develop REST based APIs and provide services of seamless third party API integration. These APIs help in establishing communication with the backend using JSON objects.
TIME TO MARKET
With our stellar services, the time-to-market for android apps is dramatically reduced thanks to our usage of modular coding and pre-packaged interfaces
REDUCED COSTS
Our real-time data collection in android apps allows us to timely enhance functionality, improve optimization and retain users while keeping the overall cost down.
Fast product delivery time with pre-built app templates and modules.
Services available for custom enterprise level android apps.
Dedicated team of professionals for every android projects.
Free support for the first 3 months after deployment.