PHP is a well-evolved server side scripting language that supports state-of-the-art programming constructs and approaches.
The world's largest social networking sites, online encyclopedias, content management systems (CMS) and web portals owe their existence to PHP.
PHP's in-built heavily guarded defence system, robust support for encryption and features such as load balancing, session fail-over and availability of 3rd party frameworks, make it the best technology to work with.
PHP provides you the luxury to pick from a wide range of ready-made CMS, and eCommerce solutions, web application frameworks and allows integration with ERPs and database management systems.
With more than a decade old experience behind its back, Dynamologic has developed PHP applications of every niche. From social networking platforms to fantasy gaming portals; SEO ranking applications to learning management systems; and eCommerce marketplaces to data driven dashboards; all can be found in our portfolio.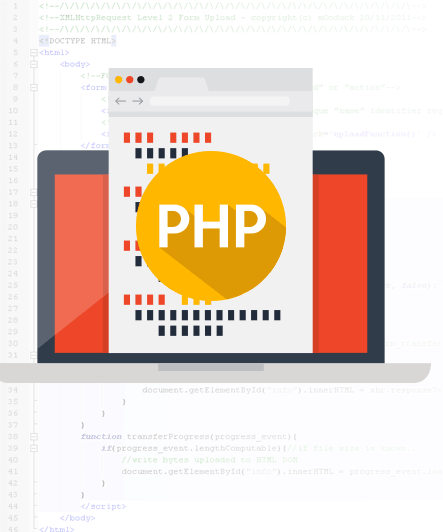 WEB APPLICATIONS
We offer PHP web application development in all of its frameworks. We create reliable and robust web apps of all types and sizes with stunning interfaces and intuitive user experience.
CMS AND PORTALS
We have been developing CMS, CRM and ERP solutions for enterprises since 2007. Our developers are the best when it comes to development of secure and high quality solutions
ECOMMERCE SOLUTIONS
Our developers are experts when it comes to the development of heavy-duty yet scalable eCommerce portals and marketplace solutions integrated with advanced features.
CUSTOM DEVELOPMENT
Whether it's a social media platform, an online gaming portal or something entirely different, our developers are able to create such custom PHP solutions with ease and agility.
The Dynamologic Advantages
RICH USER INTERFACE
Our seasoned website development professionals recognize the value of integrative branding and craft interfaces that indulge your users in an immersive digital experience.
SECURITY
Safety of your websites and applications is critical. So, to eliminate any potential vulnerability, we simulate real-time use cases and scenarios for refining designs and functionalities.
SCALABILITY
Ranging from vertical to horizontal scalability, we offer you services of load management and session fail-over that will keep your system on the grid no matter what!
OPEN ARCHITECTURE
We understand the possibilities PHP has to offer and that is why we efficiently code, compile and implement its various elements so that the code remains reusable and extendable.
W3C Valid - Solutions you can easily verify for high technical quality
Test server deployment of project, for client's access and testing throughout the development duration
Optimized queries for ultra-fast website loading
No charges for deployment service
Stock media provision ( full copyright compliance for photos, videos, etc)
Free 24/7 technical support for 6 months via email and phone