WordPress is a flexible content management system that comes with a myriad of features themes and plugins.
The world's largest social networking sa
7.5 million websites are using this open source CMS which is almost 24% of the total live sites.
This platform is versatile and super user friendly which is why it is perfect for sites of all niches and sizes.
WordPress has more than 50,000+ plugins that can be used to dramatically enhance the functionality of any website.
According to Devious Media, WordPress has lower costs as compared to other CMS like Joomla and Drupal when it comes to setup and maintenance.
Famous companies like TechCrunch, Disney, BBC, MTV and The New Yorker, etc. use WordPress for their online presence.
ites, online encyclopedias, content management systems (CMS) and web portals owe their existence to PHP.
PHP's in-built heavily guarded defence system, robust support for encryption and features such as load balancing, session fail-over and availability of 3rd party frameworks, make it the best technology to work with.
PHP provides you the luxury to pick from a wide range of ready-made CMS, and eCommerce solutions, web application frameworks and allows integration with ERPs and database management systems.
With more than a decade old experience behind its back, Dynamologic has developed PHP applications of every niche. From social networking platforms to fantasy gaming portals; SEO ranking applications to learning management systems; and eCommerce marketplaces to data driven dashboards; all can be found in our portfolio.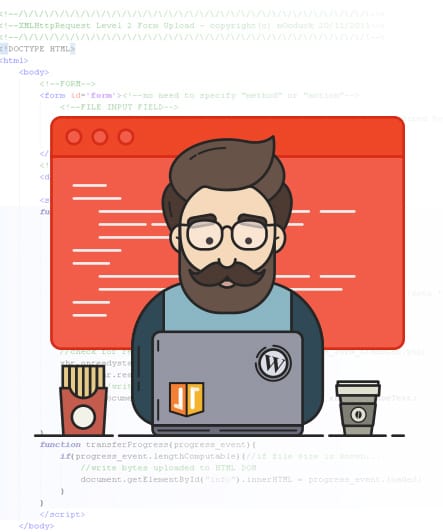 WORDPRESS THEME DESIGN/DEVELOPMENT
Our creative front-end designers create innovative designs and our WordPress developers add powerful features to it. The result is one-of-a-kind web solution.
WORDPRESS MIGRATION / DEPLOYMENT
Whether its migration, deployment or installation of WordPress, we carry them all out swiftly and efficiently. Our services are fail-safe so no harm befalls the existing system.
PSD TO WORDPRESS
Do you have the WordPress design of your dreams in your mind palace? Then we will make it a reality with our exceptional PSD to WordPress services.
WORDPRESS PLUGIN DEVELOPMENT
We offer custom WordPress plugin development to cater the business specific needs of our clients. These add-ons are robust in functionality and secure in nature.
WORDPRESS MALWARE REMOVAL
WordPress sites are highly susceptible to malware if proper security is not ensured. We employ effective methods for removal of such harmful scripts.
DEDICATED WORDPRESS DEVELOPER
Our highly skilled dedicated WordPress developers and designers can be hired for full-time and part-time basis and ensure flexible timing and clear mode of communication.
The Dynamologic Advantages
PERFORMANCE
Our WordPress based web solutions are high in performance with optimum page speed thanks to the light weight themes, well-coded plugins, optimized images and databases.
SEO
We handover mobile-friendly websites that are fully search engine optimized. Our pre-installed SEO plugins are easy to use and make the process of on-page SEO simple.
SECURITY
Security is critical when it comes to WP sites which is why we use premium security plugins to keep them safe and secure against hackers and spammers.
BACKUP
We have a defined backup mechanism for WordPress sites and their databases so that data remains intact in case of any technical mishap or malicious event.
Development of custom themes and plugins offered
On-page SEO services available
Free technical support for 3 months
PageSpeed tool and GTmetrix used for improving the optimization level
Hosting consultation provided with market best recommendations
Royalty free images from Shutterstock